Ubibot WS1 WIFI Room monitor
Product Code:
UBIBOTWS1
Availability:
9
$132.00 Ex Tax: $120.00
Temperature sensor: -20°C to 60℃
Humidity sensor: 0 to 100%
Ambient light sensor: 0 to 83klux
Vibration index sensor: -16 to 16g
Optional External Temperature Sensor: -55°C to 125℃
Free 200MB Cloud Storage enough to store data over 2 years on default settings
Minimum Device Sync Interval (Upload) is 1 minute
Minimum Sensing Interval is 1 minute (Temperature, Humidity, Light, External Probe and Battery Voltage)
Export the data to CSV or PDF
View data in chart format
Set up high and low alarms
Alarm Types:

APP push notifications
email
sms text and phone call alerts (optional - extra charges apply)

Alerts can be set on numeric-based sensor readings and network status (e.g. when connection is lost or batteries are low).
All alerts are sent from the UbiBot Cloud
On-board memory: >300,000 sensing records - for recording if network fails or for download via USB
External probe: supports DS18B20 temperature probe (optional extra)
WiFi: requires 2.4GHz (802.11 b/g/n), channels 1-13 network. (5GHz WiFi is NOT supported)
WiFi Security: supports OPEN, WEP, or WPA/WPA2 types
Compatibility: iOS 9.0+, Android 6.0+, or Windows 7+
Power Source: 2 x AA batteries (not included) or USB charger (optional)
Typical Battery Life: 4-6 months (low battery alert sent)
Dimensions: 65mm x 65mm x 16.5mm
The UbiBot WS1 has industrial-grade sensors that work seamlessly to give you accurate sensing of environmental conditions. The optional external temperature probe allows you to monitor liquids, soil and other harsh environments. The UbiBot WS1 can connect to the network using WiFi. It automatically synchronises its data to the UbiBot IoT Platform. This gives you secure access to your monitoring data from anywhere in the world via the website or our App.

The UbiBot WS1 boasts a large onboard memory and continues to collect and store data even when the network is down. If the network ever fails, you will receive a notification.

Simple Design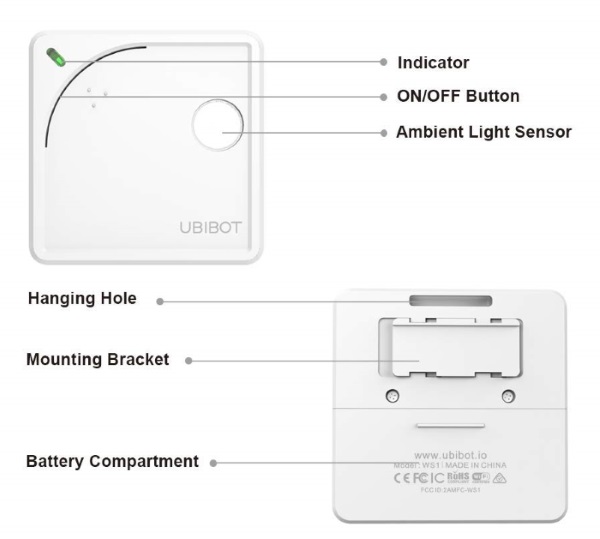 USB Connection
The WS1 has a multi-use micro USB connection;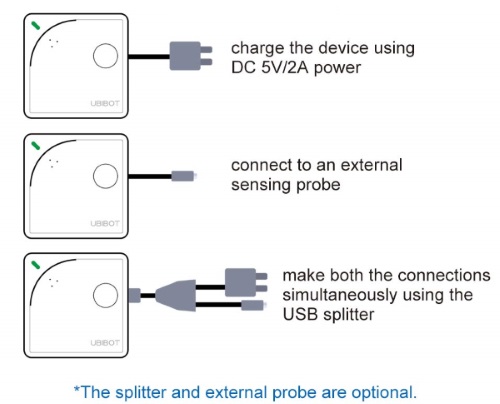 Cloud-based Platform
The UbiBot ® IoT platform is a one-stop solution for all your IoT needs. Manage all your devices from one location. Take advantage of advanced analytics & visualisation, dynamic alerts and secure data storage to maximise the benefits of IoT for your business.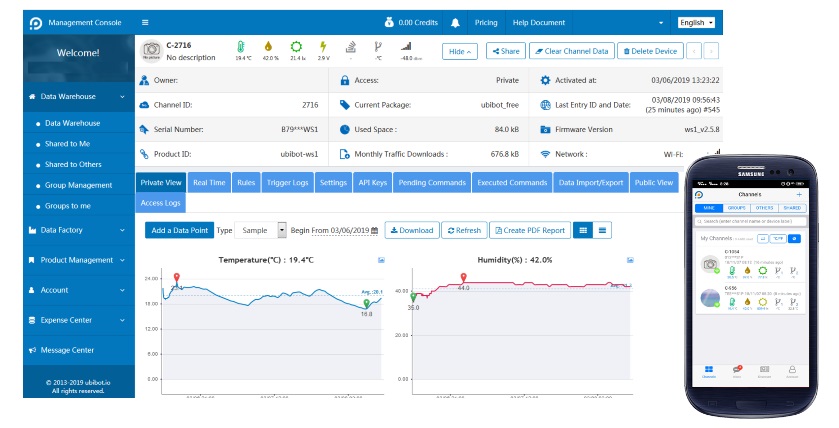 Data Management
Manage all your IoT data in one location, extract clear insights and maximise its value. You always retain full control over your data.
Unlimited Storage
Unlimited cloud-based storage ensures you will never run out of space. This allows you to view all your historical data via the app or browser.
Open API
Our free RESTful API gives you full access to our platform, allowing you to build your own Apps to access your data securely.
Analysis and Visualisation
Use powerful analysis and visualisation tools to get the most out of your data. Spot trends and make direct comparisons.
Real-time alerts
Our fully customisable alerts system will notify you by app notifications or emails as soon as any metrics cross the thresholds you set.
Highly Secure Platform
Our platform is designed to keep all your data secure so you never have to worry about hackers or other security breaches.
* The free cloud service includes 200MB of storage and 1GB outbound traffic for each device. If you have multiple devices, each of it will have 200MB storage and 1GB outbound traffic. 200MB storage is for lifetime and 1GB of outbound traffic is rotated monthly. Stored data can be downloaded at any time to free-up your cloud storage allowance. Any balance of the outbound traffic will not roll over to the next month. For example, if you have 500 MB outbound traffic unused this month, you still have 1 GB next month. Additional storage and traffic quota is available at extra charge.